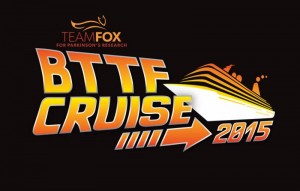 If you haven't heard, cast and crew members from the Back to the Future films are creating a fan cruise to raise money and awareness for Parkinson's Research Foundation's 'Team Fox'!
And there's Great News from the BttF Cruise to End Parkinson's!
We are extending the 50.00 discount until May 1st 2015.
And (BttF fanfare) we have a 'Star Trek convention at Sea' on board!
Yes, all BttF Cruise passengers are welcome to attend their special events!!
They will feature three celebrity guests from Star Trek. at no extra costs!
As well, there's a 'pre-cruise' option to visit the KENNEDY SPACE CENTER
We set sail the 7th – 14th of November 2015, on the Royal Caribbean Cruise Line's largest ship, the 'Oasis of the Seas', departing round trip from Fort Lauderdale, Florida, with port stops at Cozumel, Jamaica, and the private resort beach at Labadee Shores.  See the sights, take the tours, enjoy the activities, share the stimulating dinner conversations, hop the bars, both shipboard and ashore, in a way that's only possible in a limited size group on a luxury cruise.Dress for the Hill Valley High School Prom.  The 'Enchantment Under the Sea Dance' band will be headed by gold record award winning Harry Waters Jr. ('Marvin Berry'), recreating his onscreen performance, with Don Fullilove ('Mayor Goldie Wilson'/'Goldie Wilson III') on bass, Marc McClure ( 'Dave McFly'), and  Jeffrey Weissman ('George McFly' in BttF 2 & 3) on guitars.
Enjoy exciting exclusive 'Behind the Scenes' presentations from cast members, including some never before see footage and tales from the shoot, and from crew members; original BttF storyboard artist, Andrew Probert; FX Supervisor/DeLorean Time Machine designer, Kevin Pike; and the cinematographer from all three films, Dean Cundey!
We are courting some of the world's leading research scientists in Parkinson's research to join us either in person or virtually for our informational workshop on the cruise.
There will be more surprises as we get closer to the sailing that will guarantee this cruise will be a once in a lifetime event..
And now, enjoy and share BttF cruise to End Parkinson's invites from our Back to the Future alumni; Frances Lee McCain, Marc McClure, Andrew Probert, Kevin Pike, Jeffrey Weissman and Don Fullilove:
The excitement is growing.
Remember, we've reserved a limited number of cabins, and they will not last.
So don't delay to join us.
Where we're going, we don't need roads!.
You can only book through our travel agent, Charles Daitin at 310-456-7544
&